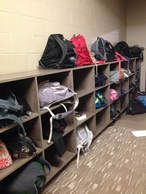 We drove our freshman to college yesterday and after all the setting-up and figuring-out of the ways and means of day one we hugged her with a flow of goodbye tears. Her mom made an interesting departing comment, "Don't let them ever change who you are and where your heart lies."
Later, I thought about this exhortation. Our daughter, since the moment she could handle child toys and objects, was able to step into her imagination without us leading her. She was developing her fierce imagination, day after day; it's just who she was and an expression of how she thought throughout her childhood. It was her joy to freely imagine the social aspect of groups of toy objects, Disney dolls and dollhouses and play characters living as if real. They would talk, move about, shop, dress-up, and sleep – everything real, hour after hour. Positioning was fundamental; how she arranged characters together in her toy houses.
You know my question already in this post don't you? How's
your
fierce
imagination
playing out? I'm only asking this because, like air in our lungs, we each have a unique imagination able to breathe life into our dreams. I guess there in another reason if I'm being honest. That is, the onset of the current narrative associated with jobs, technology and careers where we most often project imagination is under fire. No matter the fine education acquired, there may not be a 2017 kind of job due to certain kinds of technology in 2021. A fierce imagination, because of genomic profiling as well as
psychometrics
, may carry little significance in the future workforce: Both science and scientific theory are already profiling the next generation of students on a scale adapting to mere bio-algorithmic output and tests. Think this is crazy? Just look at
H.R.1313
, supported by Fortune 500 firms and the
American Benefits Council
.
Fierce imagination. Keep thinking outside the algorithm. The code of life was written long before digital was cool.
RPW@2017