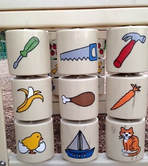 [from, "The Only Fields That Matter"]

The essence of leadership carries the power to prepare today's workforce to engage the global future. Intelligence develops over many years of work when new innovations challenge and energize mature employee's to reach their next phase of productivity. This means, I believe, there's a bright opportunity to create innovative solutions to uncountable, perpetually unsolved problems. But we're always dealing with dark perceptions of older employees.

I watched an IBM Watson ad that demonstrated how its computing platform worked. (video no longer available) "This patented cognitive computing system acts like the world's most advanced computer: the human brain". Watson, the video explains, thinks, reasons, provides hypothesis, learns, teaches, analyses and requires You. Clearly, the newest IBM computing universe appears to be targeting a future generation more than today's workforce. The up-and-coming kids will need to solve world problems faster; that's the goal: better solutions for bigger problems. There were no Baby Boomers in this particular video. Although we were the first generation to build the networks to connect the world, write the software, lay the pipes and hang the wires, we cannot learn big data says big corporate cultures. The Watson video ends by showing a large group of grade school children holding digital tablets. In less than two decades they aren't going to easily walk into a job in 2030, sit down and generate beautiful reports composed of world-changing data as the video alludes to. The "Boomer" workforce that has grown up with and spent most of their careers surrounded by hardware and software surely wouldn't blink at one more advancement.

Trying to keep up with Watson social media is challenging; in March 2014, I saw an app developer's contest that would be submitted to IBM but unfortunately, it is not an open-to-anybody invitation. I had an interesting app idea that I believe is original and it goes like this: I want Watson to give me some answers as to why I have been rejected for employment for six years. I can feed those hungry databanks with 10+ gigs from six years of experiential notes residing in my brain but the information I want from Watson relates to discovery. That is, to know which companies are willing to hire a skilled worker over age 50. That's all. Just give me fast and actionable insight so I won't be age 60 and still responding to online job posts.

Now, hit "Search". I'm waiting. In the mean time, businesses should include available intelligence – Baby Boomers - who built the foundational knowledge systems to resolve today's perpetually unsolved issues.

robertpwaters.com
​2014, 2017 This post was originally written during the Great Recession.